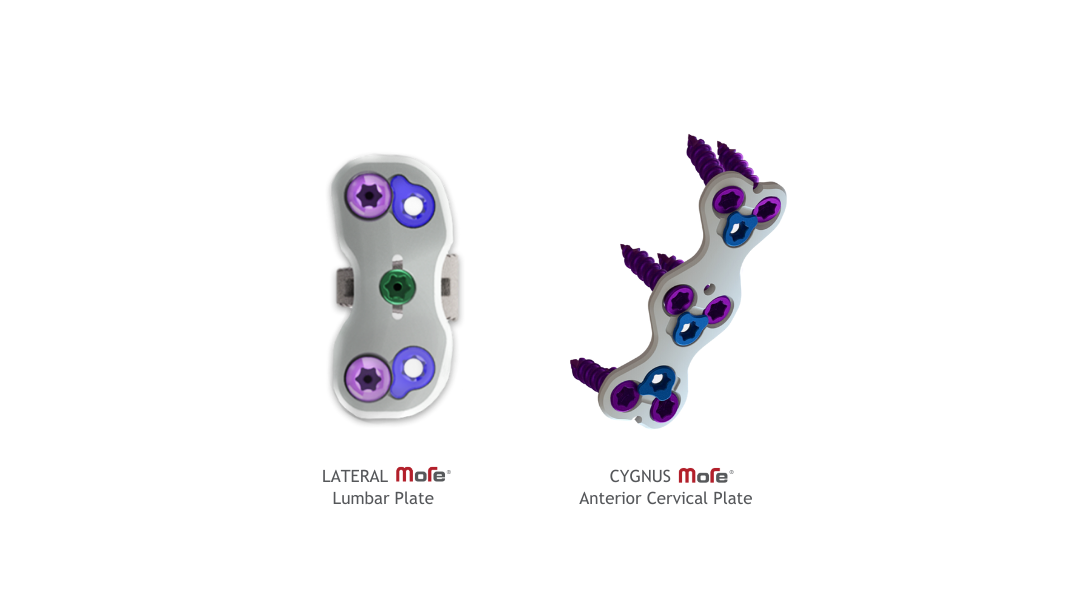 ATLANTA — October 18, 2023 — MiRus® announced that it has received FDA 510(k) clearance of the CYGNUS™ MoRe® Anterior Cervical Plate and MiRus® 3DR™ Lateral Lumbar Interbody Fusion System with Integrated MoRe® plate fixation, both being the narrowest and thinnest plating system amongst all plates on the global spine market.
MoRe®, a proprietary molybdenum rhenium superalloy for medical implants, provides an unprecedented combination of strength, ductility, durability, and biological safety. The MoRe® superalloy allows for the design of a new generation of smaller, stronger, more durable, and bio-friendly implants that result in less soft tissue disruption, quicker recovery and better outcomes for patients.
The proprietary molybdenum-rhenium alloy used in the Integrated MoRe® lateral plate allows for a dramatically smaller footprint of tapered 2mm thickness, without sacrificing performance. In a lateral spinal fusion approach, there is little room or empty space around the critical structures of the nerves and psoas, there is significant clinical benefit from a plate that is 40-60% thinner than plates currently on the market. The Integrated MoRe® Lateral Plate was awarded the 2023 Spine Technology Award for its clinical relevance, clinical problem solving and likelihood of improving patient outcomes.
The CYGNUS™ MoRe® Anterior Cervical Plate is a world class product in the ACDF marketplace that furthers our commitment to minimally invasive, stronger biofriendly implants" remarked Mahesh Krishnan, Chief Commercial Officer "with its thin 1.0mm profile, the CYGNUS™ MoRe® ACP will lead to less retraction and anterior vertebral body preparation resulting in shorter operative times and minimizing risk of complications such as dysphagia and dysphonia in patients undergoing anterior cervical fusion".
"Both the CYGNUS™ MoRe® ACP and the MiRus® 3DR™ Lateral Lumbar Interbody Fusion system with Integrated MoRe® plate fixation are major accomplishments in the global spine market, as we strive to develop products that are best in class with a resolve to provide meaningful innovations to surgeons that improve patient outcomes." stated Jay Yadav, MD, Founder and CEO MiRus.
https://www.prnewswire.com/news-releases/mirus-announces-fda-510k-clearance-for-molybdenum-rhenium-more-low-profile-anterior-cervical-and-lateral-lumbar-plating-systems-301960725.html?tc=eml_cleartime